This adapter connects to all older vehicles of the Volkswagen Group with VW-LT 35 connection sockets to the OBD2 diagnostic adapters.
Applicable for Mercedes Benz Sprinter, Vito and V Class, VW Commercial Vehicles LT up to year 2005.


Length: 280mm
Weight: 16g
Cable Specifications: (NON-UL 18 AWG x 4c, PVC Black)
PVC Jacket Overall Diameter: 6.0mm

1. All 14 pins of VW LT connector are usable
2. Comes with OBD Female (Audi type) on one end and the VW connector on the other end which uses gold plated pins for enhance connectivity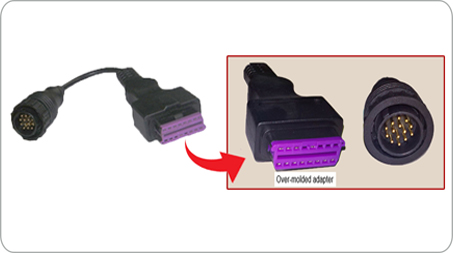 It is suitable for use on Mercedes Sprinter, Vito, and V Class, VW Commercial Vehicles LT cars made before 2005.
This 14-pin male adapter allows you to connect to the OBD2 interface (16 pins) and complete the diagnostic process with VCDS to access and communicate with [01-Motor] and [25-Immobilizer].